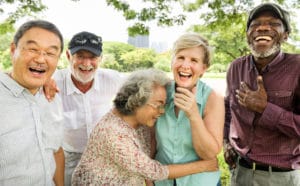 At Rancho Wellness, every patient is important to us but our senior's hold a special place in our practice. We believe in respecting people as they age and we believe that your golden years should be spent living pain free and disease free whenever possible. That's why we take the time to keep up to date on the latest in senior health care.
People are living longer and longer
It's an exciting time to be alive, especially because the average lifespan is well into the 70s and could reach into the 80s before we know it. The unfortunate side of this is that too many medical practices haven't made a point of staying up to date on the unique needs that seniors have and the advances that have been made in senior health care.
The seniors we work with are vital members of their families, their communities, and our practice. We are here to provide special care and attention. We can also work with grown children as they learn to help with their parent's special needs as they age.
We are here to alleviate your healthcare concerns
You have better things to worry about then whether or not you're going to get lost in the healthcare system. When you work with Rancho Wellness, you can count on us to use a team based approach to ensure that all your needs are met. Everyone who comes to visit us gets personalized care, and those with high risk for heart disease and other chronic diseases will get the special care and extra attention they need.
We staff who specialize in taking care of our senior patients
We have dedicated staff members whose only roles are to care for our seniors. They keep up to date on the changing medical community, get to know our senior patients well, and find the best ways to help on an ongoing basis. Those staff members also have contacts within the community so that they can help with additional care for our senior patients if necessary.
It's easy to get a hold of us
No one wants to wait for healthcare but for seniors, it can be essential to get in right away. A young person may shake off a cold, but for someone who's 70+ years old, it can be a life threatening. That's why we set aside appointments just for our seniors. This gives us slots for urgent needs and allows us to help you without having to make other patients wait.
We even have a special hotline for our senior patients. As you can see, Rancho Wellness really does do everything we can to go above and beyond. We want you to feel confident that the medical care we provide is as exceptional as possible. If you want to learn more, or you're ready to make an appointment, reach out to us today at 909-483-7800.